March 14, 2023
Digital marketing
Best AI tools for Social Media Marketing in 2023
Introduction
Ready to discover how AI in social media can change the way we interact online and change the digital landscape forever?
AI is like the new avocado toast on social media, everyone is talking about it and you can't scroll through your feed without seeing something related to it!
From ChatGPT to social media text generation, AI is taking over and making everything more efficient and futuristic. It's like we're living in a science fiction movie, but it's real life!
Keeping up with the best AI tools for social media in 2023 can be very challenging for businesses, agencies, and social media managers.
So we've researched for you. Read on for all the details!
What is AI in social media Marketing?
Artificial intelligence in social media refers to the use of artificial intelligence techniques to automate or improve various social media-related activities. This includes writing headlines for social posts, analyzing online conversations, and responding to customer feedback and inquiries.
According to Mordor Intelligence, AI in the social media market will reach $3.7 billion by 2026.
What is social media AI used for?
Here are some ways businesses are already using AI in social media:-
Content creation
AI content generation tools can create captions for social media posts, AI-generated artwork, and even video content.
Not only that, but these powerful tools can quickly create hundreds of variations on a single theme, speeding up the creation process and allowing businesses to publish more with less effort.
Idea generation
Struggling to come up with ideas for your next social media campaign? A social media generator can generate unique creative concepts for your brand using various data sources.
Need an angle for your next game? Or an attractive brand label? AI can give you the inspiration you need.
Sentiment analysis
Artificial intelligence algorithms can be used to analyze tweets and automatically determine whether they are positive, negative, or neutral.
This allows companies to understand what customers think of their products or services – and adjust their strategies accordingly.
AI can also spot potentially dangerous messages that can harm your brand reputation – so you can act quickly before any damage is done.
Content optimization
AI-powered content optimization helps brands find the best combination of words and phrases to deliver maximum engagement.
Whether it's personalizing tweets for different audiences or optimizing the timing of posts, AI can help ensure your brand message reaches the right people at the right time.
Reporting & analytics
Reporting and analytics are key to understanding how you're doing on social media.
AI-powered algorithms automate the process of analyzing data, making it easier to gain actionable insights and make informed decisions about content strategy.
Customer service
Customer service is a key tenet of social media. To give your customers a more personalized experience, use AI to provide automated responses to common questions and queries.
This helps free up resources so your team can focus on more complex issues that require human interaction.
Things to Know About AI for Content Creation
Depending on how you choose to use AI for content creation, there are a few things to keep in mind.
Fact-Checking
It is getting smarter every day, but it still can't replace human judgment.
Before publishing an AI-generated social media post, carefully check the facts and information to make sure they are accurate.
Moving in the right direction
AI tools can be used to generate content, but they require human intervention to do so effectively. It's important to remember that AI is only as good as the data it feeds, so you need to make sure your instructions are clear and concise enough for the AI ​​algorithm to understand.
Quality over quantity
AI can help generate content quickly, but that doesn't mean sacrificing quality.
AI tools are most effective when used with humans who ensure content is engaging, accurate, and on-brand.
Ethics and Consent
While generating high-quality social media content at record speed is… well, awesome, some ethical considerations come with AI-generated art.
AI content generation tools may mimic the style of artists or individuals, but it is never acceptable to reproduce their work without permission or compensation.
Be sure to get express permission from all relevant parties before using their artwork or likeness in your content.
Best AI tools for Social Media Marketing 2023
Ready to start using AI for social media? Here are some of the best AI tools available for social strategists in 2023.
1. ChatGPT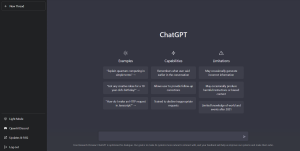 ChatGPT has taken the world by storm with its AI-powered natural language processing technology. Savvy social media marketers can use it as a brainstorming tool, a customer complaint responder, or even create funny jokes for their next social media post.
Simply enter a prompt, question, or statement, and ChatGPT will generate a response based on its advanced AI technology. Plus, the more you use it, the smarter it gets–so no two responses will ever be the same!
ChatGPT's top features:
Provide personalized customer support
Generate content ideas for campaigns
Curate existing posts with AI-driven recommendations
Create witty, entertaining posts that your followers will love
2. Shutterstock.AI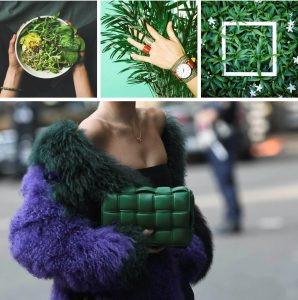 Need a snappy shot for your next social post? Or, maybe you're looking for the perfect scroll-stopping image for your next ad campaign. Take the guesswork out of image selection with Shutterstock. AI–stock image giant Shutterstock's latest AI-powered feature.
Shutterstock.AI identifies and analyzes data points from 600 billion images and seven thousand brands to find the perfect image that resonates with your target audience. This means you can quickly find the perfect image for your post or ad, based on trends in user behavior, brand preferences, and more.
Shutterstock.AI's top features:
AI-driven image search
Search by color, style, tone, and more
Hundreds of thousands of images to choose from
AI-driven trend and sentiment analysis
3. Murf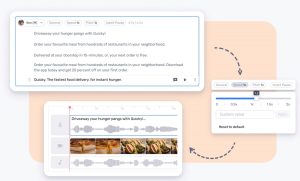 Data shows that 92% of social media surfers watch videos with the sound off. This makes Murf the perfect tool for creating eye-catching, engaging videos without spending hours in post-production.
Murf is a social media tool that uses AI-generated voiceovers to give your content a professional-sounding edge. The AI assistant can read any text you provide, instantly creating audio clips in over 20 languages and 120 text-to-speech voices. All voice outputs are human-sounding and quality-checked to ensure you get the best audio for your post.
You can also change existing voice audio on your video and create AI voice clones with realistic emotions and more. Talk about robot overlords, are we right?
Murf's top features:
Text-to-speed generation
Voice cloning
Voice-over-video generation
AI voice changer
20+ voiceover languages
4. Grammarly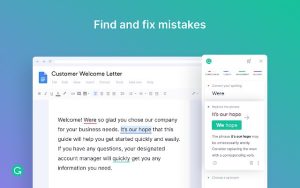 Errors in social posts are so faux-pas. Avoid embarrassing typos and grammatical errors with Grammarly, a writing assistant that helps you perfect your post content, so it looks as sharp as possible. The AI-powered grammar checker is available on the web or via browser extensions to help ensure your social media posts are polished and professional.
Grammarly's top features:
Spelling and grammar checker
Plagiarism checker
Customized style & tone
Context-specific language suggestions
5. BuzzSumo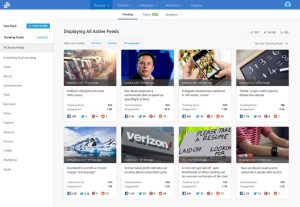 We get it; inspiration doesn't grow on trees. When your imagination station has run dry, take a look at BuzzSumo. This AI-powered tool uses search queries to scour the web for content on topics related to your business and then reports back with its success based on social engagement, evergreen score, and backlinks.
Social media marketers rejoice because BuzzSumo also features an AI-powered tool to help you identify influencers and analyze their reach. You can determine which influencers are a good fit for your brand by running reports on topics, people, and competitors–all with a single click of the mouse!
BuzzSumo's top features:
Content & influencer research
Headline analyzer
Competitor analysis
Cross-channel performance
News tracking & breaking news alerts
6. Synthesia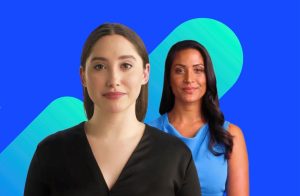 Looking to beef up those TikTok numbers? Then you need a video creation AI platform that'll give you the upper hand.  Synthesia is an AI-powered video editing tool that leverages artificial intelligence, natural language processing, computer vision, and deep learning. Use this tool to create videos faster, with more precision, and at a lower cost.
With approximately 85 AI avatars covering different ethnicities, ages, and styles, you can make videos with a human touch in over 120 languages and accents. So take your social media game to the next level, and let Synthesia be your guide!
Synethsia's top features:
Generate videos in over 120 languages and accents
Accurately represent various ethnicities and ages
Access to AI avatars
AI voiceovers for video content
Cut down time, cost, and complexity of video creation
7. Vista Social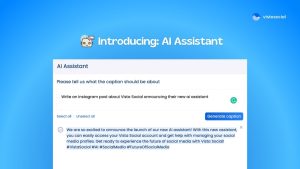 Who says you can't have your cake and eat it too? Vista Social is a one-stop shop for social scheduling, engagement, analytics, listening, review management, and AI marketing tools.
Vista Social recently released an AI-powered social media text generator, making it easy for businesses to quickly generate content that is socially engaging and unique.
AI engine can help you repurpose high-performing posts, add fact-checked stats, and even translate social posts into various languages.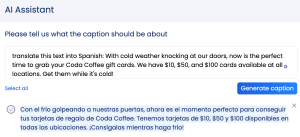 Vista Social's top features:
Translate text
Personalize by location
Re-purpose high-performing posts
Shorten posts for improved readability
Expand post copy
Add fact-checked statistics
Prompt for humor and get custom jokes 
8. Adobe Sensei

Sensei is an AI and machine learning technology built on the Adobe platform. Sensei lets you leverage AI tools within popular Adobe products like Photoshop, InDesign, and Premiere Pro.
With Sensei, you can add creative touches to photos, create compelling designs and enhance videos with AI-driven features. You can even automate mundane tasks like adding watermarks so that you can focus on content creation without wasting time on manual labor. Whether you're creating visuals for a social media post or a video for a product launch, Sensei will help you do it faster and better.
Adobe Sensei's top features:
Automated image optimization
AI image sharpening
Custom typefaces, color palettes, and layout suggestions
Intelligent video editing
9. Canva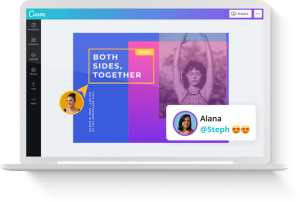 Canva certainly set the stage for user-friendly graphic-design tools when it launched in 2013. With its readymade templates and easy drag-and-drop design features, Canva made graphic design accessible to people with no design experience.
Now, they're stepping up their game with AI technology that makes creating visuals easier than ever. Canva's new AI-powered features, like auto-cropping, image enhancing, and image generation, will help you create stunning visuals in no time. Whether for social media graphics, presentations, or other visuals, Canvas AI-driven tools can give you an edge in content creation.
Canvas top features:
AI-powered auto-cropping
Image enhancement
Layout suggestions
AI image generation
250,000+ templates
10. AutoDraw by Google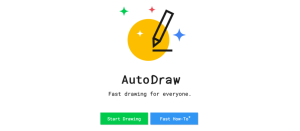 Are you the type of artist that can only draw stick figures? No problem. With AutoDraw you can turn that stick figure into a real person with just one click.
Brand new from Google Creative Lab, AutoDraw is an AI-powered drawing tool designed to help anyone make amazing visuals quickly and easily.
It uses machine learning to recognize your sketches and compare them to a library of professional drawings. It then offers you clip art replacements for your scribbles, so you can focus on what matters: aesthetics.
AutoDraw is the perfect tool for those less artistically inclined who want to make their social media posts look extra special. Plus, it's fun! So the next time you're stuck in a boring meeting, keep yourself busy doodling with this AI-powered creativity tool.
Top Google AutoDraw features:
AI-powered sketch recognition
Professional clip art replacements
Quick access to create visuals for social media posts
Host of colors and hand styles to choose from
AI and Digital Marketing in the Long Term: Thoughts and Future Impact?
As with other digital marketing tools, AI should not be viewed as a replacement for writers, designers, or content creators. Rather, it's a way to increase productivity and help automate more mundane tasks. In this way, AI ​​frees up more time to delegate more creative tasks.
However, many AIs create results based on reconstructed statements and content that people have already come up with and published. So far he has been unable to generate purely original ideas, let alone whether they are worth developing.
For now, we believe AI is worth testing to see how it can simplify and alleviate common marketer concerns.
Tell us how can we improve this post?