January 16, 2023
Business Growth
Why does your business need a digital Presence for a better Opportunity?
Introduction
Having a digital presence for your business is very important for its success. It is so essential for businesses to connect and engage with current and potential customers, especially online. The digital boom has led to strong competition in every industry as more and more customers are now depending on digital channels to find a product or service.
This is made compulsory for every business to have a strong digital presence online and serve the different demands of their customers actively. Social media platforms allow you to promote and sell your products or services to the desired target audience for a very lower cost than what you may have to spend on traditional marketing approaches.
Particularly, the one-time cost of designing a professional website and promoting your offers through it can be much more cost-effective than distributing flyers every month or advertising through billboards or other media.
Digital presence is comprehensive of content that you have control over-such as website, social media handles, etc. It also includes content that you may have no control over such as online reviews and feedback. This includes both web and mobile presence.
Numbers suggest that over 51% of smartphone users have discovered a new company or product while searching on their smartphones. So getting your business online is the next logical and practical step to scale your business. Digital presence can benefit B2B and B2C.
Problems occur because of not having a digital presence for your business:
People won't know how good your business is.
You're uninformed of what customers are saying about you online.
You lack a system for engaging with your target audience.
Traditional advertising is costlier than marketing on social media.
It's harder to build a reputation as a thought leader.
You won't be able to spread the word about new products or upgrades that easily.
You are less likely to know what your competitors are up to.
It's harder to recruit skillful employees.
In times of emergency, the lack of a social media presence can be devastating.
Now let us understand the importance of a digital presence for your business.
The key importance of a digital presence for your business. 
Having a digital presence not only permits you to reach more potential customers and promote your brand but also permits you to encourage them to take the desired action. Repeating this process will lead to compatible lead generation and increased conversions.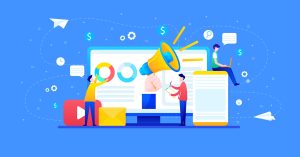 We have already evolved into a digital-advanced era. This makes it the right time to lift the power of different digital tools like social media and mobile marketing and promote your brand rigorously. Apart from this, having an online presence with a professional website and social media will also keep promoting your business round-the-clock.
1. Increases your market reach:
The online presence of your business frees you from the limits of physical borders. As per your business expansion plans and needs, you can promote your products and services to a global audience. You just need a strong digital marketing strategy throughout the online business model to serve your customers.
Being on social media platforms allows you to earn credibility and trustworthiness in the industry and attract more business partnerships. It also permits you to reach mobile customers, which has become a rapidly growing market. This way, you can also explore more business opportunities and increase your reach as well as revenue.
2. It helps to target your audience:
You can practice different digital marketing strategies like SEO and social media marketing to target the right audience to promote your business. In particular, you can market your goods and services to people who are in the most favorable demographic and age range. You can filter your target audience based on their interaction levels.
This increases the chances of conversion when coupled with promoting your business to a generic audience. You can also run surveys and contests to find potential target customers and push your offers to those who are more likely to interact with your brand.
3. Helps to build your brand reputation:
It can be difficult to market your brand depending on its niche. However, if you build an effective digital presence, building your brand becomes quite easy. It's completely free of charge to market your brand using the internet and social media. Now, this only goes so far before having to get implicated in paid advertising and targeted advertising. The beauty of a digital presence is that people from thousands of miles away can also find your business with one click of a mouse.
Also, you can stay in touch with your customers, especially after sales, which helps you to build trust and loyalty. Interacting with your customers regularly also allows you to find out where you can upgrade to serve a wider audience and generate more revenue.
With a planned digital marketing approach, you can take a center stage and make your brand more visible to your preferred audience. When more people see your brand and see you interacting with your customers actively, they will also want to do business with you.
4. Increases customer-level engagement:
One of the key importance of going online is that you get the pulse of the customer first-hand. If digital marketing is done well, then it will give you great insight into all your tier-one queries about your customer. How you use this customer feedback is the essence of your success.
Consistent engagement with your customers has become much easier because of digital marketing. Through social media platforms, you get a consistent opportunity to speak to your customers directly. You can study the trends, customer demands, and overall market.
Additionally, you can address the queries and grievances of your customers easily through online social media platforms or your website. You can also collect feedback on your products or services this way, and see if you can use any of the data for making your offers better.
For example, if most customers choose to make a purchase using an e-wallet, having better e-wallet offers will reel in customer loyalty. In a nutshell, digital marketing allows an easy flow of conversation between your brand and the customer without the involvement of any external factors.
 5. Helps in showcasing your products and services:
One of the main benefits of having a strong digital presence is that it increases the ease of showcasing your products and services. It is very simple to showcase what your business offers because of online portfolios, posting videos to YouTube, social media photo albums, and so much more. Becoming a specialist in your field should not be an issue when there are so many avenues available to connect with the public.
6. Pull marketing instead of push sales:
Because of digital marketing, almost 90% of traffic is generated via video marketing by 2020. Conservative marketing methods include plenty of push sales that are not very customer-centric. Digital marketing is all about placing your information out there to a large audience.
Customers who are looking out for your product will eventually come in, because of the strong online presence that you have created for your business/brand. Plan your business strategy and lift your product and make a digital presence. Digital presence benefits you in delivering the brand messages you want to your customers.
How to Improve Your Digital Presence
Upgrade the digital presence of your business. You can inspect some of these ideas to improve your digital presence:
Publish your Google My Business Profile
Create the social media accounts
Post regularly on social media
Utilize paid search ads online
Use promoted ads on social media
Take advantage of email marketing
Create a blog on your website that is updated regularly
Use social media SEO
Make sure your website has a simple, easy-to-use design and meets SEO standards
Create and share videos
Inspire employees to share the company's content on their social media accounts
With the help of advanced digital marketing tools, you can also track your marketing campaign's performance and ROI, and use the data to see if they are driving the results that you are seeking. This permits you to adapt to the changes quickly as well, which is an important trait to have in today's highly-competitive market.
Conclusion
The above are just a few importance of having a digital presence. There are many benefits to having a strong digital presence for a better opportunity. But it won't happen overnight. You need to be calm, put a plan in place, and set attainable goals.
Tell us how can we improve this post?