Top 15 AI Marketing Tools to Grow Your Business in 2023
Introduction
The use of artificial intelligence (AI) in marketing has gone mainstream. You would be hard-pressed to find a company large or small that doesn't use the best AI marketing tools to promote its brand or business.
Whether you're a blogger, e-commerce entrepreneur, or affiliate marketer, using AI-powered marketing tools should be part of your business plan. This allows you to design and develop effective marketing strategies that will help you reach your goals faster.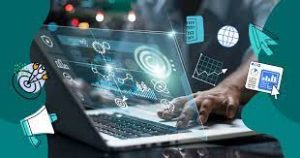 What is an AI Marketing Tool?
AI marketing tools are software or platforms that use artificial intelligence technology to make automated decisions. These decisions are based on collected data that is analyzed and interpreted along with market trends. The goal is to develop a marketing strategy that anticipates the buyer's next move.
All of this is done in real-time with no real human intervention. What makes AI marketing tools for businesses so powerful is their ability to make automated decisions at lightning speed.
Top 15 AI Marketing Tools to Grow Your Business in 2023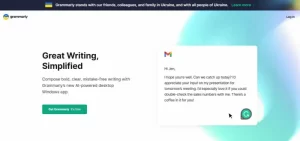 Price: Free for Basic / Custom Quote for Premium and Business 
Best Features:
Powerful grammar and spell checker
Grammarly is one of the best free marketing tools for any business. This powerful AI content marketing platform allows businesses to double-check their written copy to make sure it's polished and professional.
It features highly accurate AI that checks spelling and grammar in real-time online. However, you can also install it as an extension for Google Chrome. More powerful functions like checking for tone, clarity, and style are available in Premium and Business options.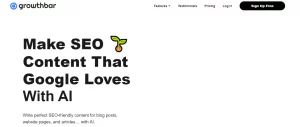 Price: (Monthly) $29 for Standard / $79 for Pro / $129 for Agency
Best Feature:
Great content generation feature
GrowthBar uses GPT-3 AI to automate content generation. It can suggest keywords, exact word count, links, images, and more. The tool is capable of providing extensive backlinking as well as creating blog post content outlines. There's also a Chrome extension available.
GPT-3 AI technology was developed by OpenAI, a company co-founded by Elon Musk. It's the first AI tech that has passed the Turing Test, which ensures that the written copy would sound as humanlike as possible.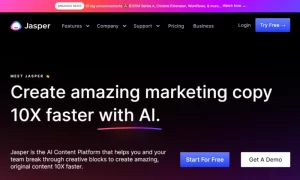 Price(Monthly): $40 for Starter (20,000 words) / $82 for Boss Mode (50,000 words)
Best Feature:
Automates your content marketing strategy
Once known as Conversion.ai, Jasper is an advanced AI marketing tool intended to create high-quality ad copy, emails, landing pages, articles, or social media posts. This tool uses the GPT3-model developed by OpenAI to write human-sounding text. It also has built-in templates for AIDA, Feature to Benefit, PAS, and Before-After-Bridge Framework. All you need to do is add your brand name or product, and it will generate the copy for you.
E-commerce shops can also produce product descriptions using this powerful AI. It can generate Amazon product bullet points or descriptions as well as write titles and meta descriptions at a click of a button.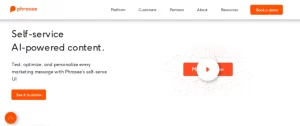 Price: Custom Quote
Best Feature:
Perfect for discovering and creating effective ad copy
Phrasee is an AI tool that focuses on "brand language optimization." This AI-powered marketing platform works by boosting the brand language used by companies in their copies. It can generate a copy for emails, Instagram, Facebook, or even push notifications using a natural language generation system together with a machine learning algorithm. The result is a human-sounding copy that is brand compliant and effective. It counts Virgin and Domino's as among its clients.

Price: (Monthly) $49 for Basic / $124 for Popular / $299 for Pro
Best Features:
Perfect for creating personalized email outreach
Smartwriter.ai assists in automating your email outreach. This AI tool generates a personalized email, including a personal subject line to pique the interest of customers. It also provides backlink generation, Shopify product title and description creation, and even personalized cold email outreach.
It also allows for integration with other third-party tools and platforms to improve your cold email outreach process.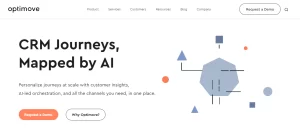 Price: Custom Quote
Best Feature:
Optibot, the built-in optimization marketing bot 
Optimove is a customer data platform with AI-based marketing functions. It helps collect data from different platforms to provide a unified view of all the information in one dashboard. Businesses can analyze or share information as well as decide on marketing strategies with ease.
Optibot, their AI tool, scours and analyzes all the customer data provided to generate actionable insights. It can suggest which campaigns to drop based on loss or let you know which customers may be too exposed to company communication.
Optimove's clients include John Hardy, Sweaty Betty, and the New York Racing Association Inc. (NYRA).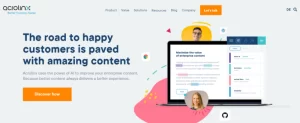 Price: Custom Quote
Best Feature:
Scores existing content so it meets brand metrics and guidelines
This AI-powered marketing software improves the quality of content, so it meets brand parameters. Big companies like Google and Amazon, use this tool to make sure all their marketing content aligns with their brand. You can set style, tone, and grammar, and even add company-specific wording. Its AI will go through the content and offer suggestions for improvements.

Price: (Monthly) $11.99 for Single Users / Custom Quote for Business and Scholar 
Best Feature:
Checks for basic grammar, and spelling while also preserving the writer's voice
InstaText is an online AI-powered writing tool similar to Grammarly. It performs basic functions like grammar and spell checks but goes a step further by rewriting sentences, so it reads better. Its most important feature is its capacity to ensure the tone and style of the writer are preserved despite the rewrite. This is important for brands that want to maintain their authentic voice in all of their communications.
Another great InstaText feature is it lets you specify multiple keywords. When you use the program, it preserves the keywords as is, saving you time when editing the copy.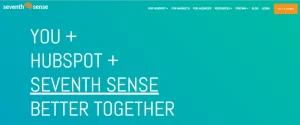 Price: (Monthly) Starts at $64 for Hubspot / Starts at $360 for Marketo
Best Feature: 
Optimizing email marketing campaigns
An AI email marketing campaign tool, Seventh Sense ensures your emails get delivered at the right time for each customer. This personalized service allows marketers to engage with their audience better, knowing they will be opening their emails at the most optimal time.
The smart platform also helps with increasing email deliverability, which improves the sender score. This is an important parameter for companies that send out hundreds or thousands of emails a week. Seventh Sense is designed to work with Hubspot and Marketo only.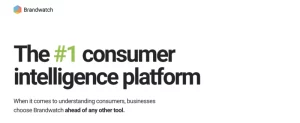 Price: Custom Quote
Best Feature:
A wealth of data that offers powerful insights
Brandwatch offers two main solutions in its suite: consumer intelligence and social media management. These two solutions can be applied to an array of use cases that include market research, brand management, content marketing, crisis management, and influencer marketing.
Not only does it offer various use cases, but as it has been around for more than a decade, you can look forward to a wealth of data.
However, the area where it shines is helping you to put all that data to good use. Its consumer intelligence (CI) platform is an AI-powered solution that will generate actionable insights that will help you to understand your consumers better as well as your brand and where it fits into the current market. It offers an in-depth understanding of how customers perceive their brands, products, and industry trends.
Then, to help you make sense of all the data, you can use its flexible user interface or select one of its dozens of live visualizations to analyze the data for you. With its detailed insights and timely analysis, the Brandwatch CI Platform helps organizations remain agile and responsive in today's rapidly evolving marketplace.
4.8 out of 5 stars
Since its launch in 2007, Brandwatch has provided effective ways for brands to monitor online conversations about them. After its 2021 acquisition by Cision, it still does—and does it better than most.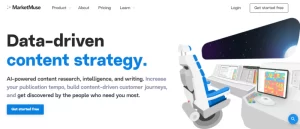 Price: (Monthly) Free for Single User / $7.200 for Standard / $12.000 for Premium
Best Feature:
Longform content creation and optimization, SEO 
MarketMuse prides itself on using AI technology in all of its services. The tool is designed for businesses needing help in crafting optimized long-form content like emails, sales copies, landing pages, or articles.
It starts by conducting deep AI research on the topic. Then, it creates a first draft based on the chosen subject to help users get started with the copy. It also includes KPIs and a content brief to serve as a guide. Users can continue editing the copy using the built-in editor and shape it according to the AI's suggestions.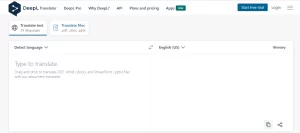 Price: (Monthly): $8.74 for Starter / $28.74 for Advanced / $57.49 for Ultimate
Best Feature:
Instantaneous and accurate translation of files and documents
If you're a business serving a global market, it's beneficial to offer accurate translations of your marketing content or copy. DeepL is a powerful AI tool that translates documents and files into several popular languages of your choosing. It not only translates the text word for word, but it adds subtle nuances and words that some of the biggest translation tools like Google and Microsoft, have difficulty grasping. The result is the fluent text that is accurate and easy to read.

Price: (Monthly) / $11.99 for Business / $199 for Enterprise
Best Feature:
Available 24/7 for customers, Easy drag-and-drop builder
Chatfuel is among the most used chatbots in the market. It assists in automating FAQs as well as qualifying leads before they are directed to a live sales agent if they are ready to purchase.
It also provides integrations to various third-party tools like Calendly, Shopify, or Google Sheets. They even have an API in case you need a customized integration for your system.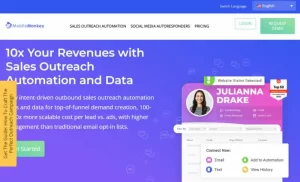 Price: Custom Quote
Best Feature:
Real-time multi-platform bot, Great B2C 
Mobile Monkey is a multi-platform chatbot creator that enables businesses to easily manage their marketing chat content with ease. It has a Unified Chat Inbox including a toolbox of integrations for easy scaling of any campaign. They also offer InstaChamp, a great marketing chatbot designed for IG businesses.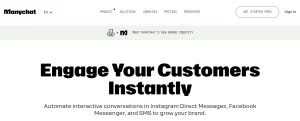 Price: (Monthly) Free / $15 for Pro
Best Features:
Captures phone numbers and email addresses
Manychat has proven itself a prominent fixture in the world of AI chatbots. It's easy to use and cleverly designed for sales and marketing. ManyChat focuses mainly on Facebook Messenger, but they do have support for Instagram Direct as well. The AI tool can be used without any coding knowledge, promising users that they can set up a bot in as little as 20 minutes.
Wrapping Up
Machine learning and AI marketing are nothing new. For years, companies have always turned their attention to technology to improve business systems, gain useful ideas and increase profits.
However, in an increasingly digital world, using the best AI marketing tools is seen as a necessity rather than a luxury. Businesses need to use AI marketing tools to build sustainable, forward-looking brands that will last for years to come.
Tell us how can we improve this post?