March 16, 2023
Employment
Key Steps of the Recruitment Process in IT Companies
Introduction
The recruitment process can be complex, time-consuming, and costly if not executed correctly. Choosing the right candidate for any company is a tricky process. With technological advancements and changing market demands, having the right people on board who believes in the company's work culture is essential for the growth and success of the organization. This blog will provide a comprehensive guide on the recruitment process in IT companies.
What is Recruitment Process?
The recruitment process is a major part of human resource management and it won't work properly without any planning. Even though every organizations or company have its different aspects of finding the right person for the job. Every organization is different and has a different approach to this process.
The recruitment team can be big or small. However, small companies have only one HR manager who is responsible for companies hiring while big companies rely entirely on advertisements, job boards, and social media accounts to recruit talent for a new positions. Many companies of today, use recruitment software or model that help to do process more effectively and efficiently.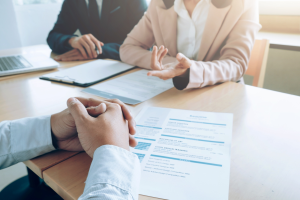 Key Steps of the Recruitment Process
1. Identifying the Job Requirements
The first step in the hiring process is identifying the job requirements. IT companies should analyze their current needs and future goals to determine the skills, knowledge, and experience required for the open position.
Before uploading the Job specification organization had to figure out what they are lacking in the position that someone has just left. Otherwise, it continues to find the wrong people who are not fit for the role. Keep track of the employees' workload with software and analyze if they need anything addressed. Whenever you recognize that there is a need for hiring then act before it becomes a pressing matter.
2. Job Description
The job description should be clear and concise, outlining the essential duties, qualifications, and responsibilities of the position. A clear job description will enable candidates to understand what the company requires and motivate them to apply. The job specification should also include information regarding salary, required work experience, benefits, remote working, office work, or work from home. For a perfect description, you should personalize, be specific, use the right keywords, use bullets to break the monotony, and keep the tone conversational. Don't use big chunks of text.
Checklist of perfect Job Description:
Company Name & Description

Core Values

Job Title

Benefits

Location

Salary

Required Experienced
3. Sourcing Candidates
After identifying the job requirements, the next step is to source candidates. IT companies can use various channels to find potential candidates, such as job boards, social media, employee referrals, career fairs, and professional associations.
The company should have a strategy for each channel and use a mix of active and passive sourcing methods to attract the best candidates. Right now there is a ton of internet platforms that fulfill your candidate requirements some of them are true, Naukri. co, shine. co and many other freelance sites. Linkedin is the most famous platform to hire the right candidate.
4. Screening Candidates
The screening process is essential to identify the most suitable candidates for the job. IT companies should review resumes, cover letters, and portfolios to assess the candidate's qualifications, skills, and experience. Good candidates should quickly and stand out if a recruiter follows the job description.
Top IT professionals are not just interested in jobs but interested in a company also that suits them with the effective work culture. that's why the company have to convince peoples that this job is a great opportunity for them. The company can also use pre-employment assessments, tests, and interviews to evaluate the candidate's cognitive abilities, technical skills, and cultural fit.
5. Technical Assessments
Whenever requires IT companies take a technical interview or you can say a practical interview that checks whether the person has basic knowledge about their future work and can perform a task on time. A test can help companies find A-level candidates and see if they can get the job done well and fast.
Usually, you have a limited time to finish the test, but this is the opportunity for you to see what knowledge you have, and what skills you should develop. After checking the technical test, companies will have a much shorter list of candidates that will get to the next stage of the hiring process – the interview. If they don't perform a task well but it is enough to get an average mark then the human resource department has an idea about whether to give a person training for their job or ignore the candidate out of competition.
Do not be too technical, either. To build a stable connection with candidates, hr needs to learn how to speak their language.
6. Interview
This process is a crucial step and it allows the company to gauge the candidate's communication skills, confidence level, candidate's background, and personality to see if they fit with the company's culture.
Top-level candidates do have not enough time so long last interviews could lose the interest of a person. The company can use various interview formats, such as phone interviews, video interviews, and in-person interviews, to evaluate the candidate's suitability for the job.
7. Offer of Employment
The selection process checks every aspect of the candidate and hiring the wrong person can be costly, so HR has to double-check all references and other information.
Offering employment can be tricky sometimes because not every person except the company's terms and conditions also the person may have a counter-offer. so if IT companies are sure that they've found the right person for the job, the organization should satisfy the candidate's expectations.
Conclusion
The Hiring process is an opportunity for the candidate to see what is lacking in knowledge and what skills he/she has to improve, so don't be disappointed if you're not selected. An application and company's website can show you what skills and experience they are looking for, so you can highlight those on your resume. It is crucial to remember that every company is unique.
Following these steps will help you understand how IT staffing agencies work and prepare you for the next step. Repetitive selection processes can be stressful and exhausting, so make sure you've done your homework beforehand.
Tell us how can we improve this post?