April 13, 2023
Employment
Different Types of Jobs in IT Companies
Introduction
The world of IT(Information Technology) Companies is vast and varied, offering a multitude of opportunities for those seeking employment in this field.
A challenging environment, exciting technological advancements and undeniable financial growth are some of the reasons why IT is booming. Also, the work environment in IT companies affects employee growth that's why to choose the best that suited your work.
From software development to technical support, IT companies employ professionals in a wide range of positions. When it comes to launching a career in information technology, it can be difficult to know where you might fit in. We try to answer the same question How do I choose my career in IT Companies? With different steps.
And in this blog post, we will explore some of the different types of jobs available in IT companies.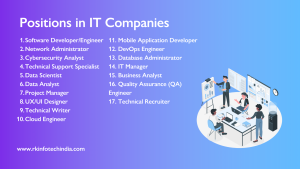 1) Software Developer/Engineer
One of the most common roles in IT companies is that of a software developer or engineer. It is the responsibility of software engineers to identify issues and patterns to improve overall system quality. They can suggest improvement opportunities for various applications. It is important to have in-depth technical knowledge, problem-solving abilities, and programming experience in these types of jobs.
These professionals design, develop, test, and maintain software applications, using programming languages like Java, Python, C++, and others. They may work on desktop or mobile applications, web development, or back-end development, depending on the needs of the company.
2) Network Administrator
The Network administrator's main responsibility is to plan, design, implement, and oversee the network that supports in-house services, like data transmission, voice communications, and wireless network access.
They ensure that the network is secure, reliable, and fast, troubleshoot issues, and perform upgrades as needed. They may also be responsible for managing network security, including firewalls and other security measures.
3) Cybersecurity Analyst
Cybersecurity analysts are responsible for protecting a company's data and networks from cyber threats. They monitor systems for vulnerabilities, conduct risk assessments, and develop and implement security policies and procedures. They also investigate and respond to security incidents, such as data breaches or hacking attempts.
To secure a job as a security analyst, you typically need a bachelor's degree and in-depth knowledge of cybersecurity. If you're just starting, certifications aren't necessary, but you should consider them as you gain experience. Consider taking courses like CISM and CISSP.
4) Technical Support Specialist
Technical support specialists in IT companies that provide technical assistance and support to users of the software, hardware, and other IT products.
As part of the technical support team, it is my job to answer customer queries and ensure that they resolve their problem, and provide training on how to use technology effectively. They may also perform maintenance and repairs on equipment, such as replacing faulty components.
5) Data Scientist
Data scientists use machine learning and other techniques to analyze large data sets and extract insights that can be used to make better business decisions. A data scientist must possess a combination of skills, including industry knowledge, decision-making ability, technical understanding, programming ability, and a willingness to question existing assumptions.
They may work on problems related to fraud detection, customer segmentation, or predictive analytics. They also work closely with data engineers and data analysts to ensure that data is properly collected, stored, and analyzed. For this kind of position, you will need both a bachelor's as well as a master's degree in IT companies.
6) Data Analyst
Data analysts collect, analyze, and interpret large sets of data to help companies make better business decisions. They use statistical tools and techniques to identify patterns and trends in data and present their findings to stakeholders.
They may also be responsible for creating data visualizations and dashboards to help make data more accessible and understandable.
Here following are some of the top listed Data visualization software available in the market.
7) Project Manager
Project managers are responsible for overseeing the planning, execution, and delivery of IT projects. They work with a team of professionals to define project goals, create timelines, allocate resources, and manage budgets.
They are also responsible for communicating with stakeholders and ensuring that projects are completed on time and within budget.
8) UX/UI Designer
UX/UI designers are responsible for creating user-friendly and visually appealing interfaces for software applications and websites. User experience designers collect feedback from customers to determine how to improve the product flow. They need a keen eye for design and an in-depth understanding of customer behaviour.
They work with developers to ensure that the user experience is intuitive and efficient and that the interface is aesthetically pleasing. They may also conduct user research and usability testing to ensure that the design meets the needs of users.
9) Technical Writer
Technical writers create documentation and user guides for software applications, hardware, and other IT products. They write clear and concise instructions that help users understand how to use technology effectively. They may also be responsible for creating marketing materials and other types of content related to technology products.
10) Cloud Engineer
Cloud architects design and implement cloud-based solutions for companies, using platforms like Amazon Web Services (AWS), Microsoft Azure, or Google Cloud Platform. They work with teams to design and build cloud infrastructure, including storage, networking, and security. They also ensure that cloud-based applications are scalable, reliable, and secure.
11) Mobile Application Developer:
With the increasing use of smartphones and mobile devices, the demand for mobile application developers has grown significantly in recent years. These professionals specialize in developing mobile applications for iOS or Android platforms.
They use programming languages like Java, Swift, and Kotlin to build applications that are user-friendly, secure, and efficient. This is a good career path to pursue if you plan to work a lot with coding. Being a programmer requires a lot of problem-solving skills, analytical thinking, and decision-making.
12) DevOps Engineer
DevOps engineers are responsible for the continuous integration and delivery of software applications. They work with developers to ensure that software is delivered quickly and efficiently, while also maintaining high levels of quality.
They use tools like Jenkins, Git, and Docker to automate the software development process and ensure that code is properly tested and deployed.
13) Database Administrator
Database administrators are responsible for the design, implementation, and maintenance of databases used by companies. They ensure that databases are properly configured, secured, and backed up. They also monitor database performance, optimize queries, and troubleshoot issues as needed.
Typically, this is a senior position and you might start as a database analyst or just a developer before moving into this type of IT job. You will need a bachelor's degree in computer engineering or management of information systems(MIS).
14) IT Manager
IT managers oversee the IT department of a company, managing a team of professionals who are responsible for various aspects of technology. They ensure that the IT infrastructure is reliable, secure, and efficient and that the company's technology needs are met.
They also manage budgets, allocate resources, and develop and implement IT policies and procedures. It is a job that relates to management, that's why you may require a managerial degree or relevant experience along with a bachelor's degree in engineering.
15) Business Analyst
Business analysts work with stakeholders to understand business requirements and translate them into technical solutions. They conduct research, analyze data, and identify opportunities for improving business processes. They also work closely with IT professionals to ensure that technology solutions align with business objectives.
16) Quality Assurance (QA) Engineer
QA engineers are responsible for ensuring that software applications meet high levels of quality and functionality. They test software applications to identify defects and bugs and work with developers to ensure that issues are resolved. They also develop test plans and strategies to ensure that software is thoroughly tested and that users have a positive experience.
Most QA testers work for product-based companies that require continual maintenance and updates after the product has been deployed. As a QA engineer, you should hold a bachelor's degree in IT or computer engineering.
17) Technical Recruiter
Technical recruiters are responsible for sourcing, screening, and hiring IT professionals for companies. They use a variety of tools and techniques to identify and attract top talent and work closely with hiring managers to ensure that candidates meet the needs of the company. They also manage the hiring process, including negotiating salaries and benefits.
As we see most of the positions are available in IT Companies. Here is a detailed blog about the skilled required for a software developer in IT companies in 2023. Now here we listed two of the most asked question related to Jobs and Careers. This question will prepare you for your first interview.
What is the starting salary in IT Companies in India?
The starting salary in an IT job in India can vary depending on several factors such as the specific job role, location, industry, and level of education and experience.
On average, an entry-level IT professional in India can expect a starting salary of around INR 3-5 lakhs per annum. However, the starting salary for IT jobs in India can be as low as INR 2 lakhs per annum for certain roles, such as technical support or IT support.
Higher-paying entry-level IT jobs in India can offer salaries ranging from INR 6-10 lakhs per annum, or more. For example, some of the highest-paying entry-level IT jobs in India include software engineer, data analyst, cybersecurity analyst, and UX designer.
It's important to note that salaries in the IT companies in India can also vary depending on the location. Salaries tend to be higher in major cities such as Bangalore, Mumbai, and Delhi, where the cost of living is higher, compared to smaller cities or rural areas.
Overall, the starting salary for an IT job in India can be quite competitive, and there is significant room for growth and advancement over time.
How do I choose my career in IT Companies?
Choosing a career in IT companies can be both exciting and challenging. Students who are pursuing the final year of their studies also can benefit from doing an internship to get real-world experience. Here are some steps that can help you make an informed decision:
1) Identify your interests
Start by identifying the areas of IT that interest you the most. Are you interested in software development, cybersecurity, data science, or network administration? Narrowing down your interests will help you focus on specific career options.
2) Research
Once you have identified your interests, research the different career paths available in IT. Read about the job roles, required skills, qualifications, and career prospects. You can find this information online or by speaking to people who work in the industry.
3) Assess your skills
Assess your current skills and experience to see how they match up with the requirements of the IT roles you are interested in. If you have gaps in your skills, you may need to consider additional training or education.
4) Gain experience
Consider gaining experience through internships, freelance projects, or volunteering in IT-related fields. This will give you hands-on experience and help you develop a network of professional contacts.
5) Seek advice
Talk to professionals in the field and seek their advice on career opportunities, skills needed, and job market trends.
6) Evaluate the job market
Consider the job market demand for the careers you are interested in. Look for job vacancies and check the job market trends to make sure that your chosen career path is in demand.
7) Make a decision
Based on your research, skills, and interests, decide on the IT career path you want to pursue.
Remember that choosing a career is a personal decision that requires careful consideration. Take the time to evaluate your options, seek advice, and make an informed decision.
Conclusion
IT companies offer a wide range of job opportunities for those seeking employment in this field. Whether you're interested in software development, network administration, cybersecurity, or any other aspect of technology, there is likely a job in an IT company that will match your interests and skills.
It's important to research and understands the various roles available so that you can identify the job that is best suited for you. With the right skills and experience, you can start your career and build a successful and rewarding career in the exciting world of IT.
Tell us how can we improve this post?